product-image.php
Encore Careers
Program 137 • 29 mins
CDs available via special order.
content-single-product.php
Although many people crave the break from daily work they receive upon retirement, in some cases the experience of an "endless vacation" eventually causes individuals to feel purposeless. They often feel lonely and depressed, drifting with too much spare time in which to think about their physical ailments. With the erosion of savings caused by the economic downturn starting in 2008, many seniors seeking extra income will now be moving back into the work force. Marc Freedman has been tracking this trend, including the opportunity for seasoned workers with many skills to find new satisfaction from employment in areas—like education, health care, and environment—where they give something back to society.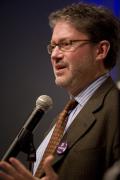 I think of it as a kind of practical idealism. Something that combines the need that so many people have for continued income and health benefits beyond what retirement age was in the past, and the spirit of service. What previous generations might have carried out through volunteerism, more and more people are looking for through jobs that combine income and meaning, and use their experience in ways that have a real social impact, that matter. That are not only personally meaningful, but that mean something beyond themselves."
—Marc Freedman, founder of Civic Ventures and author of "Encore"
single-product.php