product-image.php
Journey of the Deaf-Blind
Program 138 • 29 mins
CDs available via special order.
content-single-product.php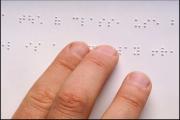 We hear the story of Mary Gillespie, a woman born with normal hearing and vision, but who developed several illnesses starting at age ten. Gradually, she became deaf-blind. Now living in Los Angeles, Mary is a regular volunteer at the Braille Institute, where we recorded this remarkable episode of Humankind. The challenges of communication and mobility—as well as Mary's faith and joy—are discussed. Also heard is Joe McNulty of the Helen Keller National Center. Keller, who died in 1968, is best known for the dual disability of being deaf-blind, but an estimated 1.2 million Americans are projected to be significantly impaired in both seeing and hearing by the year 2015, according to a recent study.
I think that a lot of people today are looking at this whole notion of self-empowerment of people with disabilities. That there is just a mindset in our country that people with disabilities can't. We look at what they're not able to do. We don't naturally focus on their strengths and their assets and their capabilities."
—Joe McNulty, Executive Director, Helen Keller National Center
single-product.php