product-image.php
Martin Luther King's Spiritual Journey
Program KS4-2b • 29 mins
CDs available via special order.
content-single-product.php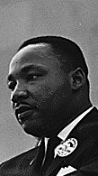 A look at the link between spiritual consciousness and social conscience. Rev. John Cartwright unravels Dr. King's personal quest for God—a crucial dimension of the slain civil rights leader that is rarely discussed.
Note: This is part of our series, "Kindred Spirits," which contains four volumes of 12 half-hour segments.
single-product.php