product-image.php
Our Food Footprint
Program 168 • 29 mins
CDs available via special order.
content-single-product.php
More and more people are paying attention to the planetary perils posed by climate change. And they are asking about the role that we as individuals play in generating the greenhouse gases affecting our weather and other aspects of cliamte. A study by the European Union shows that about three-fourths of a person's environmental footprint is attributable to the fuel consumed in transportation, food and housing. In Sweden, labeling on many food products and restaurant menus now displays the climate impact. And one of the world's largest contributors of these heat-trapping gases is from energy-intensive livestock operations, which produce meat and dairy products. Here we feature an in-depth interview on food and climate with Dr. Rajendra Pachauri, long-time chair of the UN Intergovernmental panel on climate change, which is widely regarded as the world's leading scientific body on global warming and related topics. Along with former Vice President Al Gore, Dr. Pachauri received the 2007 Nobel Peace Prize.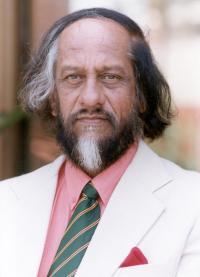 I addressed a large group of people in the city of Ghent, in Belgium, and I talked about [reducing meat consumption to counteract greenhouse gas emissions] and I found a massive response. That whole city then started a movement, and now they have one day a week which is a meatless day; meat will not be served in restaurants, people don't eat meat at home. And I think that's a good step forward. Now Sir Paul McCartney, who's a good friend of mine, and I have been trying to suggest this in other countries of Europe as well. I think it would make an impact. Let's say [it could reduce] total emissions of around 20 percent coming from this source."
—Rajendra Pachauri, Nobel Peace Prize-winner and Chair of UN Intergovernmental Panel on Climate Change; Director of Yale Climate and Energy Institute
single-product.php