content-single-product.php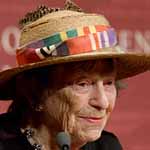 At age 90, Mrs. Doris Haddock ("Granny D") walked across America to protest the corrupting effect of big money in our electoral process. She passed away in March 2010 at age 100, still hoping to leave her 16 great-grandchildren a gift: restored democracy.
Granny D. felt our democratic system is broken, and she dedicated many years to fixing it.
Best known for her 14-month, 3200-mile protest walk across the United States completed in 2000, Doris Haddock of Dublin, New Hampshire was an American original. She embodied the power of one citizen, motivated by personal conscience and social idealism, to make a positive difference in the life of our nation.
Hear Mrs. Haddock recorded on her long walk and while relaxing at her home by a bright stream.

Doris Haddock is a true patriot, and our nation has been blessed by her remarkable life. Her story will entertain, inform and inspire people of all ages for generations to come."
single-product.php