product-image.php
Lao Tsu's Way of Life
Program KS1-4b • 29 mins
CDs available via special order.
content-single-product.php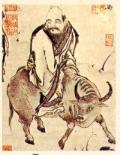 Photographer/author Jane English borrows some pages from the Tao Te Ching ("The Way of Life"), a poetic guidebook about inner balance. These subtle truths by the ancient sage may be the greatest work in all of Chinese philosophy.
Note: This is part of our series, "Kindred Spirits," which contains four volumes of 12 half-hour segments.
single-product.php