product-image.php
Tree-Lined Streets
Program 177 • 29 mins
CDs available via special order.
content-single-product.php
Living on a tree-lined street can be pleasant, visually beautiful and a boon to property values. In addition, environmentalists point out that adding trees to a neighborhood may be our "first line of defense" against greenhouse gasses associated with climate change. This may be especially true in urban centers where large numbers of cars emit high quantities of global warming pollution. And there are other environmental benefits: when a tree naturally provides shade, that reduces the energy needed to cool down buildings, which can yield major reductions in pollution. And trees offer other benefits to human health. In this program, we visit with Charlie Starbuck, a volunteer in San Francisco who has single-handedly planted more than 7,500 street trees. We also hear from the organization he works with, Friends of the Urban Forest, as well as the city's official Urban Forester, an employee at the Department of Public Works.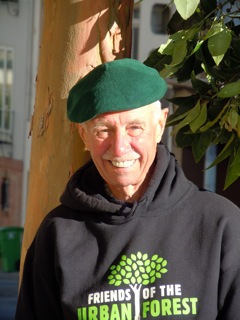 [When people come together to plant street trees] it brings the neighborhood together. I can't tell you how many times we've been planting trees, and people that have been living on the same block for five or ten years have not met each other, and they'll meet over planting a tree, and become good friends, as well as their children."
—Charlie Starbuck, volunter tree-planter, Friends of the Urban Forest
Trees store carbon in their wood. They also create oxygen and—and part of storing the carbon is absorbing the carbon dioxide. So a lot of people are aware that carbon dioxide contributes to global climate change, and trees will take up that carbon and store it in their wood. They also take up fine particulate matter. Which means that they can help clean the air for citizens. So in cities where asthma is more and more prevalent, trees can actually help contribute to a cleaner air for people."
—Carla Short, Urban Forester, City and County of San Francisco
single-product.php